James Bond Film "Spectre" Releases Teaser Trailer
Sony / Columbia(NEW YORK) -- The teaser trailer for Spectre, the next installment in the James Bond series, picks up right where the last film left off. The trailer opens with the famed 007, played for the fourth time by Daniel Craig, learning some "personal effects" recovered from his ruined family estate and childhood home of Skyfall contain a dark secret of his. The trailer features some familiar faces - like Naomie Harris, who played Moneypenny in Skyfall - as well as some franchise newcomer
93-Year-Old Betty White Reveals Her Biggest Regret
Photo by Brian To/Getty Images for The Lifeline Program(NEW YORK) -- Betty White's biggest regret in life involved her late husband Allen Ludden, who died from stomach cancer in 1981. White, 93, spoke to Oprah Winfrey for Sunday's Oprah: Where Are They Now? and said that her major regret was not marrying her husband a year earlier. They were together for 18 years before he died."I spent a whole year, wasted a whole year, that Allen and I could have had together, saying 'No' I wouldn't marry him,
"Home" Star Rihanna Wants Movie to Empower Girls
Photo by Rob Kim/Getty Images(NEW YORK) -- Rihanna made her acting debut in the poorly-received 2012 big-budget sci-fi flick Battleship, and had cameo appearances in 2013's This Is the End and last year's Annie remake. Now, it's her voice -- her speaking voice, not her singing voice -- that's front and center in the new animated movie Home, which opens in theaters on Friday. In Home, Rihanna voices a resourceful and brave little girl named Tip who becomes separated from her mom, voiced by Jennif
"Mad Men" Donates Its Iconic Style to the Smithsonian
Michael Yarish/AMC(NEW YORK) -- Cigarettes and hard liquor may not be what immediately springs to mind at the Smithsonian's National Museum of American History, but that is exactly what was unveiled Friday in homage to the massively popular television series Mad Men.Now in its final season, the serial drama's creators at AMC cable network and Lionsgate have gone on a blitz of farewell events including screenings and speeches.And now its antihero, actor Jon Hamm's drinking and womanizing ma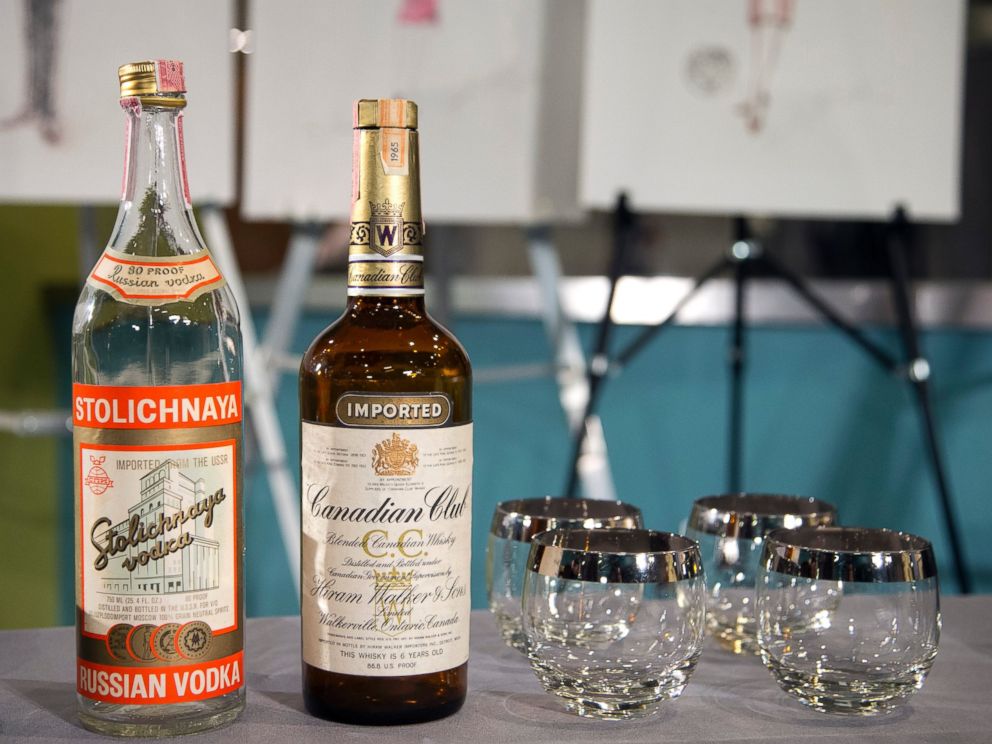 Two Stars Affected by New York City Building Collapse
Kevin Winter/Getty Images/Craig Sjodin/ABC(NEW YORK) — Drea de Matteo, who played Adriana La Cerva on The Sopranos, was among the dozens of people who lost their homes after an apartment building explosion led to a seven-alarm fire in New York City Thursday.The actress posted photos of the devastation on her Instagram account. One photo caption read, "NYC's finest trying to put out the flames to mine n many others apartments. Speechless...for those that are hurt." Anoth
"Mad Men's" John Slattery Says He Turned Down "Empire" Role
Michael Yarish/AMC(NEW YORK) — How would Roger Sterling fit in the world of hip-hop music? We may never find out.The actor who plays Roger on AMC's Mad Men, John Slattery, says he was offered a role on the Fox hit Empire. Empire was co-created by Danny Strong, who has guest starred on Mad Men.Slattery commented on Strong's success while speaking with The Daily Beast, saying, "That guy is on top of the world right now with Empire. If he reads this, 'Danny, I need a job!'"He then revealed th
Molly Sims Welcomes Second Child, Daughter Scarlett May
Jason Kempin/Getty Images(LOS ANGELES) -- Molly Sims became a mom for the second time on Wednesday.The 41-year-old actress and her husband, Ted producer Scott Stuber, announced the news in an Instagram post the following day."We welcome Scarlett May Stuber into our family. Our hearts are bigger with you here," Sims captioned a photo of the new baby girl. A photo posted by Molly Sims (@mollybsims) on Mar 26, 2015 at 5:28pm PDTThe two, who tied the knot in 2011, are also parents to a 2-year-o
"Fancy Nancy" Optioned by Disney Junior for 2017
Jane OConnor and Robin Preiss Glasser/Harper Collins(NEW YORK) -- Fancy Nancy is coming to the small screen.The book series has been optioned by Disney Junior for development of an original animated series and TV movie slated for 2017, the network and publisher announced on Friday."Children have been captivated by Fancy Nancy's wit and irrepressible spirit for a decade and we are very eager to give her an even bigger stage on which to perform," Nancy Kanter, executive vice president of original
"Home" and "Get Hard" Open Nationwide Friday
"Home" - Fox(NEW YORK) — Here's a look at the new movies opening nationwide Friday:Home -- An alien race takes over the Earth, but one girl eludes the visitors and befriends a fugitive alien named Oh. Jim Parsons, Rihanna, Steve Martin and Jennifer Lopez lend their voices to the animated film, which is screening in 3D. Rated PG.Get Hard -- Will Ferrell is a hedge fund manager who's committed fraud and is set to go to prison. He turns to Kevin Hart's Darnell to help him &l
Benedict Cumberbatch Reads Poem at Reburial of Richard the Third
ABC/Rick Rowell(LEICESTER, England) — Benedict Cumberbatch portrays the late British monarch Richard the Third in a new BBC drama, and is also a distant relative, so it was fitting that he read a poem Thursday at the reinterment of the king whose remains were found underneath a parking lot 530 years after his death.King Richard died in 1485 in the Battle of Bosworth Field.Cumberbatch read a 14-line poem written by Britain's poet laureate, Carol Ann Duffy, during a reburial ceremony at Engl
McConaughey's Camp Not 'Alright, Alright' with Revealing Speaking Fee
ABC/Rick Rowell(NEW YORK) — Oscar winner Matthew McConaughey has been booked to speak at May's commencement for the University of Houston. How much its going to cost, however, has become something of a mystery.Celebrity Talent International, which books stars like McConaughey for speaking engagements, insisted to the Houston Chronicle that the actor's fees should remain secret because, "a reporter or someone else" could misuse that information and, "take things out of context."While
Executive Producer Says He's Contemplated "Downton Abbey" Movie
ITV(LONDON) — While Downton Abbey will end after its sixth season, its executive producer has left the door slightly open for a feature film based on the popular period drama.Gareth Neame hinted to The Hollywood Reporter that he and series creator Julian Fellowes would be interested in bringing the show to the big screen. He said, "It's something that Julian and I have been contemplating and would be a wonderful extension."But fans shouldn't get their hopes up just yet. Neame caution
Emma Watson Tops List of Most Outstanding Women of 2015
ABC/Rick Rowell(NEW YORK) — This is an outstanding achievement for Emma Watson: the Harry Potter actress ranks first on AskMen.com's list of the Top 99 Most Outstanding Women of 2015.Readers of the lifestyle website were asked to vote on females "whose achievements are shaping and defining their respective fields."Watson landed in the top spot, with the site noting her support for the U.N.'s HeForShe campaign, a gender equality movement.UFC star Ronda Rousey, Kim Kardashian, Taylor Swift a
Movie Review: "Get Hard" (Rated R)
"Get Hard" - Warner Bros.(NEW YORK) — Kevin Hart and Will Ferrell are two of the funniest people on the planet. So how did they end up making such an unfunny movie? Ferrell plays James, a wealthy banker who lives in a wealthy Los Angeles neighborhood and is engaged to a gorgeous, spoiled woman (Community's Alison Brie) who's also his boss's daughter. Next thing we know, James is arrested for fraud and sentenced to ten years in prison -- hard time, at San
Josh Peck Recommends John Stamos to Replace Zayn Malik in One Direction
ABC/Randy Holmes(NEW YORK) -- When it comes to music, John Stamos is no slouch.Not only did the 51-year-old play a musician in Full House, he's toured with the legendary Beach Boys.So, when Zayn Malik, 22, quit One Direction Wednesday, actor Josh Peck, who plays Stamos' son in an upcoming show, took to Vine to recommend a replacement.".@onedirection FANS. Don't worry guys, I found ZAYN's replacement!! @JohnStamos," Peck wrote on Twitter, coupled with a Vine video. .@onedirection FANS.